Forum rules
For generic X-Live support, please go to the appropriate forum here:
viewforum.php?f=47
@pmaillot
does the WING version also have an Undo button?
Thank Patrick for the reply. Im shocked they didn't include it on the wing when the XTouch unit has them on it. A glaring missing facility that is the key thing when using daws, allowing the software to detect the minute you touch a fader so it expects some form of automation from it etc. Its also handy when working live to bring up pages on the screen related to the fader that you touch - very good for quick changes to parameters to save hitting select buttons etc, you just tap the fader and ups comes the screen for that channel.

Dave
@DaveT
: The WING is mainly a console for live sound. The fact some knobs are touch sensitive enable the quick changes you mention, and there's also a built-in facility (like on X32) to auto select a channel strip as soon as you [very slightly] move a fader.
This said, I always prefered clicking a select button than touching a fader to bring up a screen for changes... moving even slightly a fader can be 'auditively' perceptible.
-Patrick
Exactly! I use the Undo instead of Channel Eraser if I want to change something I just did. I wish I could rewrite with the X32 like is possible in your description with the WING.
btw, does anyone know if the Heritage-D HD96 does OSC? I'm guessing no.
Hi again Patrick. I see some one has posted pictures of the latest firmware screens and on one of them is Touch Faders auto select. I'm hoping this means that as mentioned above by myself that this is now a capability. I can't check until my one arrives but can you advise if this is a new feature or an existing one that's labelled as something else such as the touch sensitive knobs?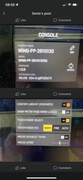 The "Touch Faders" feature is not actually triggered by touch. Rather it senses small fader movement and then selects the channel. It works well. I used on an outdoor event on Saturday.
Paul Vannatto
Global Moderator
Yep, fully correct, as I wrote it. Behringer's use of the term "Touch" is slightly over-optimistic here.