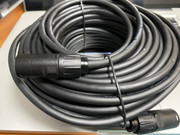 I just received and added EtherCons to the new Empanar round cable. Tested and working fine. I did not try cutting up to shorter lengths and putting on new rj45's yet but suspect it will be no problem when and if I do. The cable is nicely made, very flexible and easy to trim. I note in the package they offer a lifetime guarantee. I suspect that doesn't include the trimming of the rj45's to accommodate EtherCons
You do need to use the wider cable adapter pieces of the EtherCON package as this is 0.8mm diameter cable. I prefer those anyway for pre terminated cable.
I have been having intermittent AES clock drop issues for a while now and found this thread informative. After committing to the idea that solid neutrik continuity is the solution I reassessed my setup and found that the black neutriks we were using had very diminished continuity compared to the nickel ones. I switched those out and cleaned the snake ends and ports really well with contact cleaner and canned air it seems to be solid!
@Ghartford
Interesting, I think I recall this being mentioned once before. However that was in regard to non Neutrik made ethereons supposedly that used black paint to get the color. The black ones from Neutrik use "chromium" shells as opposed to nickel. I do not know if the grounding properties of chromium are worse than Nickel. How did you determine "very diminished"? I am also curious as to how your cables themselves were terminated. Some cables though grounded at each rj45 end are not securely grounded and/or only done with the outer foil touching the rj45. I was surprised to find the Klark Teknik/Behringer Cat5E-50M version like that. Even though they used quality cable (made by Neutrik) and high end rj45's and authentic Neutrik ethercons, that cable did not have a dedicated ground wire, only foil and the foil just touched the rj45 case, not specially secured that I could see. Seemed to me like problems with lost ground could easily occur over time like that...but maybe not. Just wondering if the cable/rj45 connection or the cable itself could be part of the issue. I have several versions and lengths that use both Chromium and some Nickel Neutrik made types, so far no problems. Hope they never occur. That said I may not buy any more Chromium Neutrik ethercons just in case:-)
@GaryH
In my case i had several cat snakes with both silver and black true neutrik ethercons. With a meter in continuity mode the black ethercons took some encouraging with the probes to find continuity while the silver ethercons were immediate and much more forgiving. I wish i had done this swap and the detailed cleaning separately so i could speak to their individual contributions. However, the band and I are just pleased to have consistent audio for the time being. This issue has come and gone on its own many times so I am holding my breath but three shows in and seems solid!
As to the cable builds the shields themselves are not physically attached to the ethercon shell. It is only the full metal shielded RJ45s contacting the ethercon shells. I've not seen an AES50 specific build rundown but would be interested to see what folks think should be different.
If the shield is a foil shield it should have a drain wire. I like to take that drain wire and solder it to the RJ45.

When making a bunch of shielded cat cables I left the drain wire long and took the shield drain wire and after crimping the connector I soldered the drain wire to the metal housing (on the tab side (be sure to trim it to the needed length before soldering it)) for the shield on the RJ45. This gave me a much more consistent connection to the shield. You need to get it very flat and use a small amount of solder. And keep the soldered point down towards where the wire comes into the connector. You may need to play with it a little bit to figure out how you need to do it. I know you aren't supposed to need to do this but I found it gave me a better and more consistent connection.
@Ghartford
That would be correct and normal, it's the cable drain wire and/or foil shield that contact the rj45 metal shell. The rj45 shell then contacts the ethercon shell once the ethercon is in place. It's difficult to see on some premade cable, where it may appear not to be correct but actually is. There are shielded cat5e/6 cables made out there that do not have a dedicated ground wire or metal braid and should be avoided imo. Easy way to check the cable termination in regard to its ground is the same basic test, check continuity Ethercon shell to Ethercon shell. If the cable is shielded correctly you will see continuity. A common (older) practice by some manufacturers was to defeat the ground at one end. That practice with the X32 family and AES50 in general serves no purpose. If you are not seeing continuity end to end yet it passes audio (most of the time) it would be that the rj45 is not grounded properly on one or both ends. It would also mean your problem is likely to happen again. You are probably just fine now, I hope anyway.
Interesting I'll dig in if the issue pops up again. I didn't want to break this one apart bc it had solid continuity and was so well dressed. Definitely into an even more permanent physical ground connection to the shell as I did notice the slight play between the rj45 and the ethercon shell.

This cable was built by a local pro audio shop here in nashville. The bare rj45s all had solid continuity end to end. It was then the difference purely between adding either the black or silver ethercon ends that was a fairly striking difference in continuity that I noticed.